Respect, sharing and progress: our founding values
Since Okaïdi was created in 1996, these three founding values have inspired and guided the ÏDKIDS community and the behaviour of the men and women who are part of it. These simple, universal values put people at the heart of our business and reflect our corporate culture. They give meaning to what we do and how we do it. They guide our initiatives, our decision-making, our choices and our day-to-day behaviour. They convey our sense of belonging and uniqueness and are the foundation of our reputation.
Respect for people and the planet
The IDKIDS ecosystem is built on the premise of respecting individual identities, inclusion and bringing together complementary talents and personalities. It is a community of stakeholders committed to respecting the common good, the planet and humanity.
Shared experiences
Learning and communicating to liberate energy and spark action. Bringing together different generations and internal and external stakeholders. Promoting synergies within an ecosystem that has t
IDKISS at its heart.
Company growth
Striving for revenue growth is essential if we want this business to be successful and sustainable. Personal growth is another key area at the heart of We Act For Kids. It applies to our staff, customers, partners and suppliers and is fundamental to achieving major social progress around the world. We Act For Kids represents so much more than a single company's actions.
Twelve verbs to motivate and inspire
Based on our founding values of respect, sharing and progress, these inspirational verbs are a point of reference for employees' interpersonal, professional and communication skills and a reminder to pursue the common good and the objectives of We Act For Kids. These 12 verbs guide the actions of the IDKIDS ecosystem. They are represented by the leaves on a tree which we cultivate every day.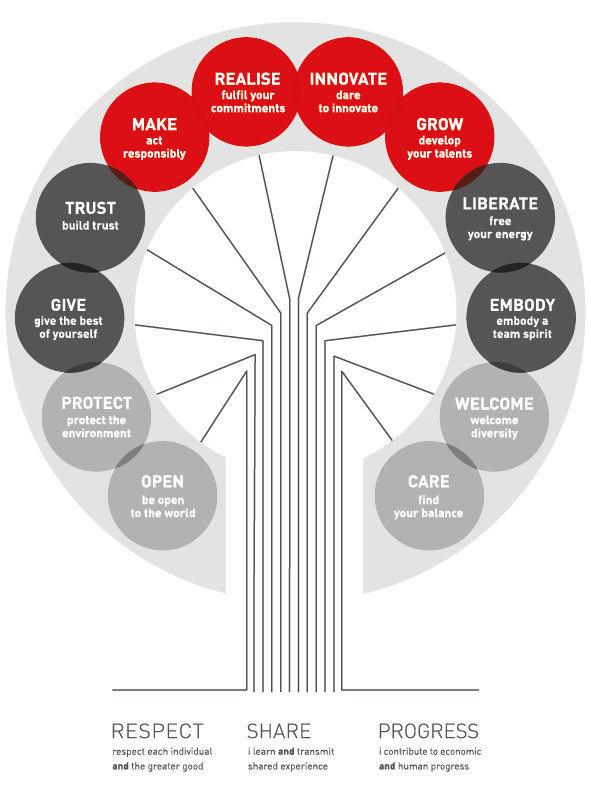 Embody = live and breathe the group initiative
Through SHERBET and the We Act For Kids charter.
Liberate = free up your energy
Encourage creativity and independence to help every employee volunteer be responsible and happy.
Welcome = embrace diversity
Embrace our differences and value each other's beliefs and knowledge.
Trust = rely on others
Contribute to progress and self-fulfilment as a group.
Care = look out for others
Take care of others and form bonds by putting people at the heart of society.
Open = open up to the world
Involve all the brand communities in helping to achieve children's universal wellbeing.
Grow = develop talents
Respect future generations, guide them along the path of progress and learn from them.
Innovate = be bold and creative
Boldly innovate to help future generations and sustain the added value and uniqueness of our brands.
Give = give the best of yourself
Knowledge comes from the heart: high standards – caring – professionalism.
Make = act responsibly
Design beneficial and involved products and services with the help of the entire IDKIDS ecosytem
Realize = meet our objectives
Observe the requirements of top performance, good character, true meaning and genuine team spirit.
Protect = look after people and the environment
Promote environmentally-friendly activities and habits to benefit future generations.
Give us this day our paradox
To ensure that our brands continue to be unique, we need to reconcile top performance, good character, true meaning and genuine team spirit. These requirements are not as contradictory as they first appear. Combining them boosts creativity and heightens the impact of our actions. They form what we call the 'paradox triangle'.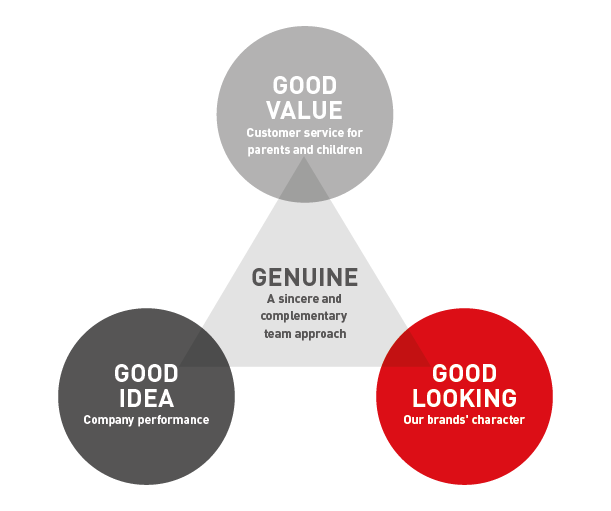 The triangle is a point of reference that our teams use on a daily basis.
It is a checklist for our activities based on three key points:
Character
Distinctiveness, aesthetic appeal and innovation are the characteristics that make our brands unique.
Performance
Practical, ergonomic, affordable, high-quality and safe to stand out from the crowd.
Meaning
A commitment to We Act For Kids and HESSERBraC.
To achieve our goals, we need a central reference point: team spirit and synergy between its members.